Haberberger, Inc. wins AGC SCOTY Award
Posted on February 4, 2020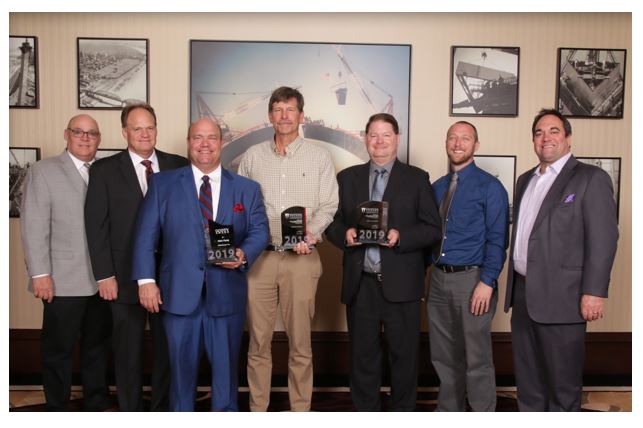 Haberberger Honored with AGC SCOTY Award; Named a Finalist for a Keystone Award
St. Louis-based mechanical contracting firm Haberberger, Inc., was recently honored by the Associated General Contractors of Missouri (AGC) with the 2019 HVAC/Piping Subcontractor of the Year Award. The award was presented to Haberberger at AGC's annual Construction Awards Gala, held at River City Casino in St. Louis last month. During the event, Haberberger, Inc. was also named a finalist for an AGC Keystone Award.
Haberberger was recognized as an outstanding subcontractor for HVAC, sheet metal and piping construction as part of AGC's Specialty Contractor of the Year (SCOTY) Awards, which are presented annually to subcontractors that demonstrate teamwork, excellence in craftsmanship and quality service. The SCOTY Awards are given to contractors specializing in 12 disciplines: Ancillary Services; Concrete/Paving; Earthwork and Utilities; Electrical; Environmental Remediation and Demolition; HVAC/Piping; Interior and Exterior Finishes, Openings and Fixtures; Masonry; Plumbing and Fire Protection; Structural and Finish Carpentry; Structural and Finish Metals; and Thermal and Moisture Protection.
Haberberger was also named a finalist for AGC's Keystone Awards, which are given annually to contractors that exhibit excellence in providing solutions to unique obstacles and challenges specific to their construction projects. Haberberger was honored for its Specialty/Subcontractor Industrial Construction work on the Ameren Missouri Labadie ELG Wastewater Treatment project.
The SCOTY Awards are selected by AGC's General Contractor members via secret ballot. Members are asked to consider a specialty contractor's timeliness in conjunction with the completion of a project or projects; ability to stay within budget and overall experience with the contractor.
The Keystone Award finalists and winners are selected by a panel of judges that include experts in the architectural, engineering, sustainability and construction education fields. They review projects submitted by AGC members in June of each year, and finalists are selected in the categories of general and specialty contractors, building construction and industrial/infrastructure construction. Each category is grouped by the financial size of the project.
Haberberger, Inc. is a 71-year-old mechanical contracting company that offers complete HVAC installation, customized maintenance programs, process piping and piping fabrication, plumbing and refrigeration and energy management services to a variety of industrial and commercial customers.
Published by Construction Forum St. Louis. 12/13/2019. Haberberger Honored with AGC SCOTY Award; Named a Finalist for a Keystone Award.